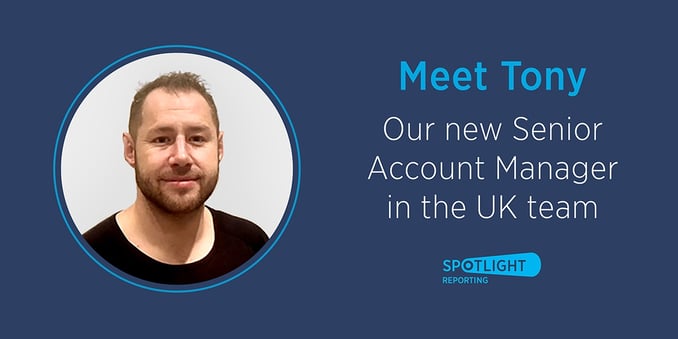 We're excited to have Tony Stevenson join the Spotlight family as a Senior Account Manager. Tony brings a wealth of industry knowledge and experience into the role and will work predominantly with accountants in the UK.

We asked Tony to tell us a little bit more about himself.
WHERE ARE YOU FROM?
Based just outside London, in the St Albans area.
WHAT IS YOUR PREVIOUS EXPERIENCE?
I'm ACA qualified, having completed my training contract with Deloitte, I spent 10 years in Practice and Industry. Latterly with a Silver Xero Partner firm focused on SMBs before he Joined the Partner Consultancy team at Xero.
Having worked with 500 accountancy firms on both Cloud Accounting implementation projects and Xero Champion Day work shops, I bring a wealth of experience from both practice and the software industry, from the sole practitioner to the Big 4 and everything in between.
WHAT DO YOU BRING TO THE ROLE?
Having worked both with and for firms that have lead the way in Cloud Accounting and Advisory Service adoption, I bring a wealth of experience to help firms set goals, grow and manage the change needed to execute the 'how'.
IF YOU'RE NOT WORKING, WHERE WOULD WE NORMALLY FIND YOU?
Outside of work, I'm easily distracted by Sports, loving Rugby, Golf, Football and Trekking. 2017 saw me both return from 9 months travelling and get married, so when time and money will allow I like to see the world. If none of the above, then I'm probably cooking something delicious in the kitchen.