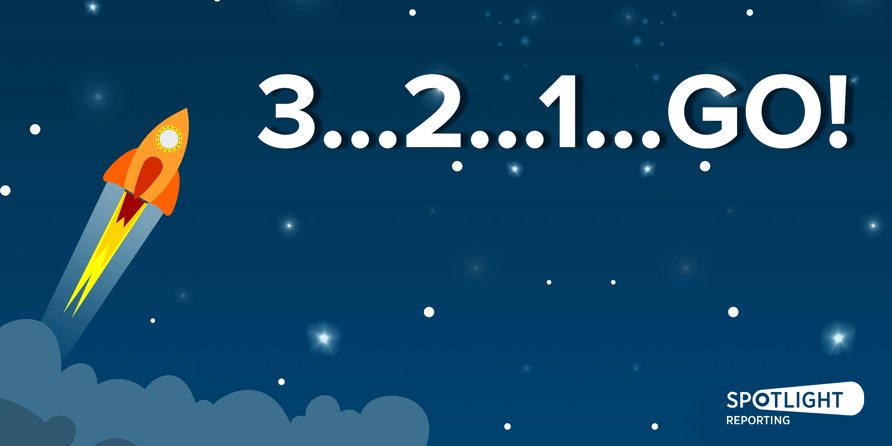 We meet a lot of accountants every month who would love to boost (or even start!) their advisory services but run into a big hurdle… TIME. There is just not enough of it!
As the year comes to a close and things start to wind down, we've come up with a simple 3-step reward based program to help you hit the ground running in 2017, armed with all the tools you need to become a trusted advisor to your clients and boost your advisory services.
3…2…1…GO!
In the "3...2...1…GO!" program, we're going to show you how, by becoming our Super VCFO partner, you can use Spotlight Reporting tools to blow your clients away with insightful and engaging reports. You'll see how easy it is to set up custom KPIs that are tailored to their individual needs. They'll be impressed when you include non-financial data too!
We'll show you how to make your clients sticky by leading the way with proactive cash flow forecasts. Chuck out the clunky, hard to read Excel spreadsheets and amaze your clients (and the banks) with beautiful and simple to understand cash flow forecasts. Your clients will love you even more when you help them look ahead with confidence.
To help you sell your advisory services, you'll see how sending out performance dashboards on a monthly basis will spark lots of interest and give you a chance to up-sell them to higher value services. We'll also provide you a checklist to tick off before you start.
So, what are the steps? Easy.
3
View our recorded webinar where we introduced our Super VCFO program. You'll be taken you through Spotlight Reporting, Forecasting and Dashboard in detail and explained how we can help you get up and running through our Masterclass training, priority support and our unique Customer Success program.
2
Sign up for a free trial of the Super VCFO package (Reporting, Forecasting and Dashboard) and immerse yourself in the software.
1
For every new Super VCFO partner that subscribes during the "3…2…1…Go!" program, we'll apply a 25% discount off your initial 3 month subscription. Then, you'll get your Masterclass training, set up your templates and branding, mark off the checklist (PDF), plan your marketing campaign and get ready to….
GO!
Kick off your advanced advisory services, expand your service offerings, improve the customer satisfaction and grow your revenue in 2017!
Don't put it off any longer, get started by downloading our free recorded webinar today.