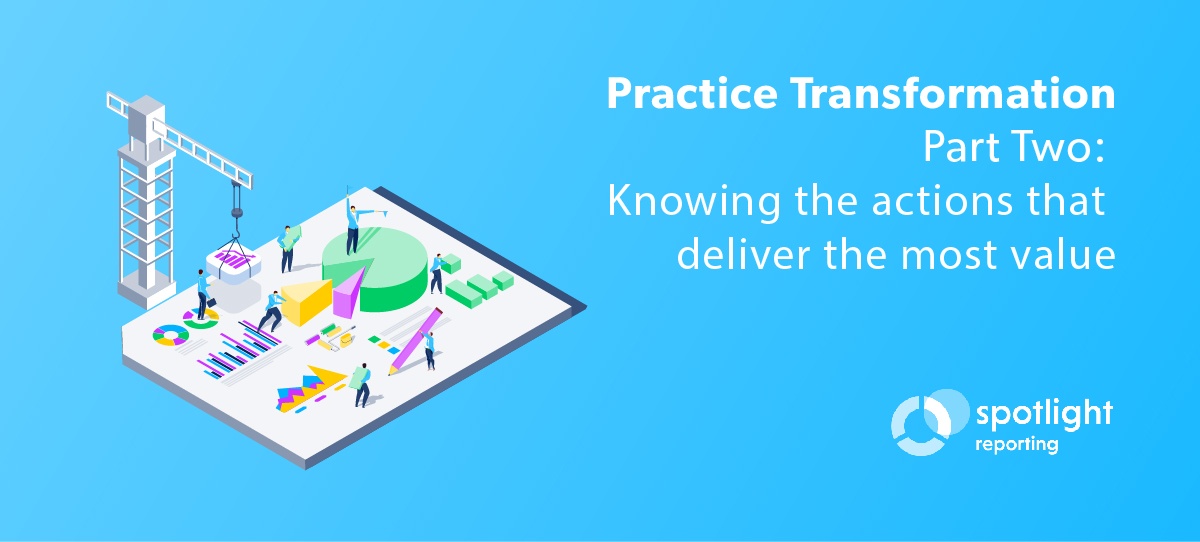 You need a core transformation strategy in place to effectively kickstart the evolution of your accountancy firm. As we outlined in part 1 of this practice transformation series, this means having a clear vision, setting the right goals, and taking positive action.
To put the right impetus and drive behind this core strategy, you need to put some careful thought into where your action will add the most value.
Debbie Spooner, Customer Success Specialist, explains the importance of talking to your peer group, learning where the transformation pitfalls lie and the value of an effective support unit.
Knowing where your action will add most value
Having a strategy and executing on it sounds easy, doesn't it? But to maximise the effectiveness of your next steps you need to know where your action is likely to be best placed.
Advice and support from your peers and wider professional network will be vital here. Every practice journey will be different, but listening to the experiences of other accountants, and talking to external advisers, will help you to take the right actions at the right times.
To broaden your understanding of the change process:
Talk to your peers – speak with other practice owners and senior partners in firms you admire, and get their viewpoint on your plans.
Know the hurdles – get advice from people who've been through the transformation process and listen to their stories, so you understand the pitfalls and can avoid them.
Surround yourself with the best mentors – every business benefits from an outside mentor, and that's equally true of your accountancy firm. Whether thats talking to a business coach or working with Spotlight's own Customer Success team, you need to get the best possible guidance.
Have a support unit – your experience will be far easier with someone to share the journey. Our Customer Success people work with you to set the right goals, act as your support team, and help you work towards your core vision – keeping the transformation journey in perspective.
The more prepared you are, and the more background knowledge you have, the readier you will be to make a success of your next challenge.
Keeping cool under pressure
As with most things in both sports and business, the match rarely pans out in the exact way you've planned in the team talk. So you'll need to keep cool under pressure.
Staying calm under pressure is a real asset. It's never the standard 90 minutes like you drew out in the game plan. Events, circumstances and client issues will always come along to change your plan. So it's important to be agile, flexible and to think on your feet. Being prepared to fail, to learn from the negative experience and to then get back up again is a key learning curve.
You will have bad clients.
You will have times pressures.
And you're very likely to have client service issues that need to be overcome. As the leader of the team, you need the emotional intelligence to know what people want, how they feel and if you're meeting their expectations.

As accountants and advisers, your clients expect you to do the best for them – and that means having the resilience to consistently deliver on this goal, whatever the challenges.
Moving through the change process as a team
So are you and your practice team ready to start your transformation journey?

To meet your goals, everyone on the team must move forward at the same pace and have the same vision. You need to be cohesive – with an agreed strategy, the right tactics and people who are fully signed up to your game plan.

You will have to let go of control occasionally – the ball does sometimes go out of play. But with your strategy and team behind you, you'll be ready to flex your game plan, try new tactics and embrace the flexibility to meet your transformation goals.
If you want the best possible advice on defining your change goals, tracking your performance and driving success, come and talk to the Spotlight Reporting team
Find out more about how Spotlight Reporting supports your firm's transformation or view our recent webinar Advisory Pathways – Proven Strategies to Transform Your Firm