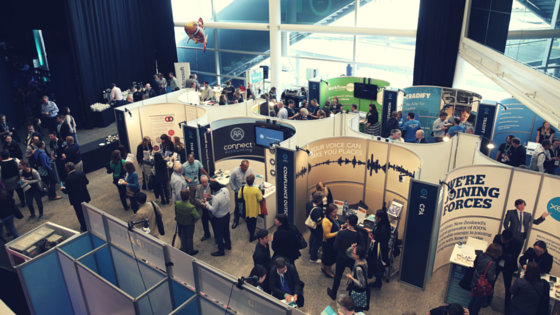 Event marketing, experiential marketing, live marketing, participatory advertising - there are many terms that can be used to describe this form of marketing. Whatever term you decide to use, it's safe to say that event marketing holds a significant place in company strategies. In order to get the most out of your investment, we give you five tips for a return on investment (ROI) on your event marketing spend.
In 2012, even in the midst of a weak global economy and the hard line taken on budgets at firms, the amount spent on these events worldwide was an estimated $565 billion (USD). Events come in many forms such as conferences, trade shows, and exhibitions. For every industry, there are some key events that need to be added to the calendar and there are others where attendance seems optional. Whether you decide to attend as an exhibitor, or as a delegate, the most common questions asked might be:
What are the benefits of attending?
Is it worth the time, effort and expense?
What is the return on investment?
What do we need to before, during and after the event to ensure we're getting the most of it?
Here's a guide to set you in the right direction, once you've made the decision to exhibit at an event:
What to do before you engage in event marketing
Before you attend, it's important to clarify the goal of attending any event. The same processes apply here as they do in any operational decision. The goals will vary depending on the type of conference but it is still imperative to measure against expense and costs (including opportunity costs) of that event. Use technology as tools to track ROI milestones if you can (like your CRM). It can be difficult to measure ROI in event marketing and impossible without setting clear goals from the get-go.
1. Create an irresistible pitch
This one doesn't need too much explaining. I will again use a real life example as told by Entrepreneur:
At his first hurricane-preparedness trade show in 2007, David Dodgen tried to demo his AquaPodKit, a bathtub bladder that stores 65 gallons of fresh water, using only a poster. It's not surprising that no one stopped at his booth.
"I thought, this is not working" says Dodgen, who is based in Austin. So mid-show, he bought a bathtub at Home Depot, lugged it back to the venue, lined it with an AquaPodKit and filled it with water. "The media went crazy," Dodgen recalls. "There was a line of people at my booth."
A great demo is nothing without a spirited, engaging pitch that presents the solution to a specific customer need--preferably in a minute or less.
Using video is also a great way to show off your product on your phone or tablet, if you need to do an impromptu demo outside the booth. However, a video should be kept under three minutes and most importantly, keep the same spirited and engaging approach as the pitch.
2. Make your booth inviting
Avoid the following common mistakes:
Over packing booths with inventory and furniture – leave room for people to engage with you. Take into consideration your team, your demo and the attendees, who will no doubt be carrying 'swag' bags and other event paraphernalia.
Placing a rectangular table across the front of your booth – this is an extension of bad 'body language' conveying an unwelcoming vibe. Instead, position large tables against the back or side of the booth.
Keep the design clean and functional but don't skimp on creativity. SMB Consultants showing us how to do it right at the Life In Style at the Melbourne Royal Exhibition Building in Carlton this past weekend.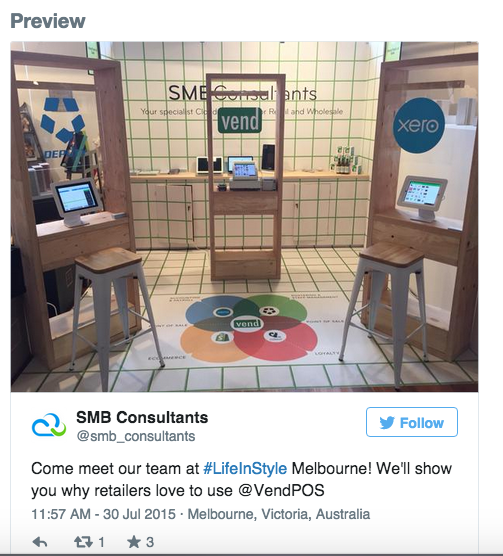 The @smb_consultants booth at #LifeinStyle Melbourne, showing how Vend @Xero & @deputyapp can transform retail. Ace! pic.twitter.com/FXbPQF7Opz

— Vend Point-of-Sale (@vendhq) August 3, 2015
3. Network, network, network.
Take the opportunity to talk to everyone, everywhere. Go out of your way to befriend show organisers and staff. Tell them what you're looking for, be it customers, investors or publicity. They may be able to cater to these needs and allow you to achieve your goals.
Get to know exhibitors in the neighbouring booths, too. We enlisted the help of Receipt Bank at Xerocon Auckland recently, who we already have a strong relationship with. They understand what we offer and were able to refer delegates (potential customers) to us and vice versa. It's a great time to strengthen relationships within your ecosystem. It can also be handy when it comes to photos for social media posts!
When exploring the show, do so with a purpose. Pre-plan, where possible, by checking the event schedule. Check the show's website and Twitter feed for last-minute program changes and other highlights.
Never leave your booth unattended, not even for a minute during lunch, and not late in the day when the event's winding down. That might be when the buyer you most want to meet visits your booth.
4. Do the homework
Once you register for a booth of your own, it's strategy time. Scour the exhibitor list and session lineup for potential customers, partners and advisors you'd like to meet at the event, then reach out to them. At Spotlight Reporting, we send a follow up email using MailChimp inviting those who have engaged with us to a tailored webinar. We ensure this follow up is done no longer than a week after the event to really take advantage of the impact of the face to face interaction.
5. Follow up and evaluate.
The post-show checklist should include more than merely reaching out to new contacts. Look for other opportunities to communicate with your industry. Following up isn't just about closing sales. It's also about gauging an event's return on investment. It's wise to attend a show with preset goals in mind (think: media hits, investor interest or retail leads). Utilise your CRM to track number of leads and customers gained. Measure your ROI based on the goals set-up before the event.
Actively encourage attendees to sign up for your mail or email lists by creating a special offer or exclusive content for those who do so. Use signage to encourage them to follow your business on social media. Create an incentive for them to let you know how they learned about the event and your business along with the follow through after the event (with a telephone call, thank-you email message and so on). Such activities help you build your customer and prospect base.
With planning and preparation, there is little doubt that event marketing at industry specific conferences and trade shows can have a positive impact on your business' brand in various ways. With Xerocon 2015 just around the corner, vent marketing is very relevant topic. Spotlight Reporting will be an exhibitor at this year's #Xerocon in Melbourne on August 13 and 14. There's some obvious reasons to get involved. Check out reason number three here.
Some tips from reputable and highly regarded business resources have been used as the backbone to answer some of these questions and discover some best practice guidelines. Find the full versions of these sources at Harvard Business Review, Entrepreneur and Inc.