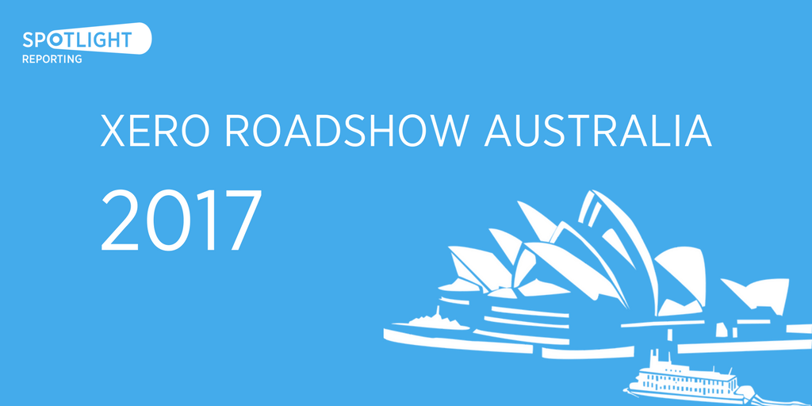 As Xero's app partner of the year 2016, we are very excited to be part of the Xero Roadshow in Australia 2017. We love meeting forward-thinking accountants who are transforming their practice from being solely compliance focused into delivering awesome value-add advisory services.
If you're serious about delivering value-add advisory services to your clients, we offer the entire advisory tool-kit, including forecasting, management reporting, dashboards and multi-entity consolidation. We also offer product bundling called Super Virtual CFO for an easy monthly pricing plan. This bundle includes full access to Spotlight Reporting, Forecasting and Dashboard.
We've had hundreds of leading global Xero firms join the journey towards growing an advisory firm and we would love you to join us too.
To find out more about us and our award-winning business advisory tools, please visit the Spotlight Reporting website or take a look at this short video to find out what leading Xero firms say about us.
Are you already a Spotlight partner? Drop by our stand and hear about our latest product releases, new features and exciting upcoming updates.
Introducing the Spotlight Team
Jason Forbes
Director of Sales
Eugene Scheepers
Senior Account Manager
Chelsea Brummer
Customer Success Specialist
David New
Director of Strategic Partnerships

Vanessa Bosnich


Senior Account Manager
Emily Mason
Customer Support Specialist
Our team will be on-hand to help you maximise the value of the event. Drop by to say hello and get a demo of how we work best alongside Xero to deliver the greatest value to your firm and clients. You can even pick up a free TEE.
Event programme
| | |
| --- | --- |
| SYDNEY | 1 February, Wednesday |
| ADELAIDE | 3 February, Friday |
| BENDIGO | 6 February, Monday |
| MELBOURNE | 7 February, Tuesday |
| NEWCASTLE | 8 February, Wednesday |
| FRANKSTON | 8 February, Wednesday |
| PERTH | 9 February, Thursday |
| BRISBANE | 15 February, Wednesday |
| GOLD COAST | 16 February, Thursday |
| PARRAMATTA | 16 February, Thursday |
| WOLLONGONG | 17 February, Friday |
| GEELONG | 17 February, Friday |
View the full event programme and locations.
If you haven't registered yet, don't delay, register now. There is a limited number of seats available.
We look forward to seeing you there.
Your Spotlight Reporting team.