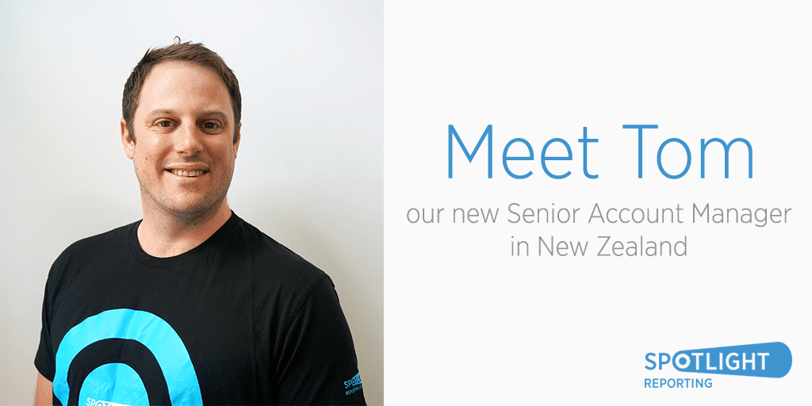 We're excited to have Thomas Loosley join the Spotlight family as a Senior Account Manager. Thomas brings a wealth of industry knowledge and experience into the role and will work predominantly with accountants in South and lower North Islands.
We asked Tom to tell us a little bit more about himself.
WHERE ARE YOU FROM?
I was born and spent the first few years of my life in beautiful Russell, Bay of Islands, NZ but it's fair to say my formative years were spent in Auckland, NZ. With an English father and Kiwi mother, I'm privileged to have a dual UK/NZ citizenship which I took advantage of in 2004/2005 when I lived and worked in Edinburgh, Scotland.
WHAT IS YOUR PREVIOUS EXPERIENCE?
I've joined Spotlight after successful and enjoyable 4.5 years as a Senior Account Manager at Xero where I worked with accountants and bookkeepers in Auckland and Waikato regions. During this time, I was able to build relationships and work with a variety of clients from the Big 4 firms to sole practitioners. I listened to and assisted with the challenges they faced (often similar) in the rapidly evolving industry due to the opportunities that technology advances have brought.
Prior to Xero, I've had other account management positions in the IT and health insurance industries and spent time on the client side of the coin when I had my own small business as a restaurant owner.
WHAT DO YOU BRING TO THE ROLE?
First and foremost, I like to think I bring good humour because I believe if there's no smiling there's no point!
Second, I feel I bring a balanced understanding of all those likely to experience the benefits of Spotlight Reporting, being accountants and clients.
My time at Xero means I've been able to gather a deep understanding of the accounting industry and online accounting where I had years working with firms both struggling and embracing the changes it's currently experiencing.
Having been a small business owner, I know the challenges of trying to know how the business is doing and once getting the numbers accurate how to understand them!
IF YOU'RE NOT WORKING, WHERE WOULD WE NORMALLY FIND YOU?
In no particular order: travel, skiing, hiking, snorkelling, watching sport, reading comics, listening to metal/hardcore.