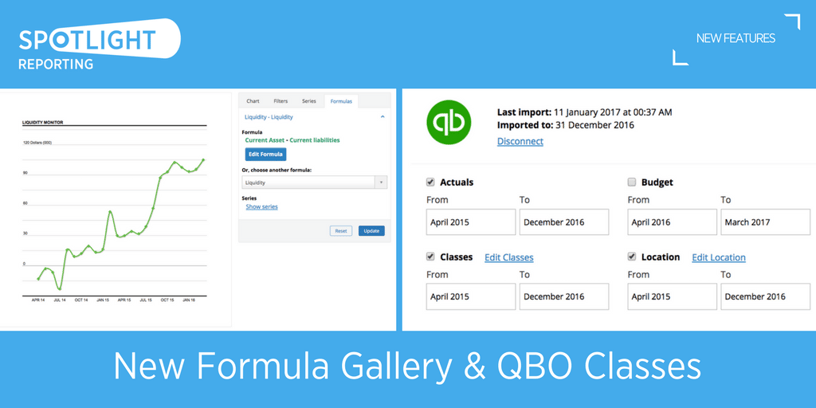 Our product team has had an extremely busy start to 2017! We've added two new features to our range of reporting tools.
New Formula Gallery for KPI Monitoring
This new feature will allow administrators to create formulas which all users can access and use. This means many accounting firms will save time as users will be able to reuse formulas rather than re-creating them. It will also reduce errors or inconsistencies that previously occurred because not everyone was using the same formula or didn't re-enter formula correctly.
We appreciate some accounting firms have particular KPI reporting requirements or formulas they may use across an entire practice which may differ compared to our Spotlight default formulas. Our new Formula Gallery allows users to overwrite the defaults with their own formulas.
To see the Formula Gallery in action, check out our release video.
QuickBooks Online classes/locations for divisional reporting
QuickBooks Online classes/locations is similar to Xero tracking. It allows users to report on divisions, departments, offices or other segmentations.
This feature also allows users to drill down to another level of detail for their Spotlight Reports which previously weren't detailed enough. Being able to import QBO classes/locations will now give users insight into how their various departments or segments are performing.
To see the QuickBooks Online classes and locations in action, check out our latest release video.
We hope you enjoy the two latest product updates from the Spotlight team. For any further information, please visit our Help Centre.