"Within two months of signing up with Spotlight, we'd generated an additional $115k in annualised advisory revenue."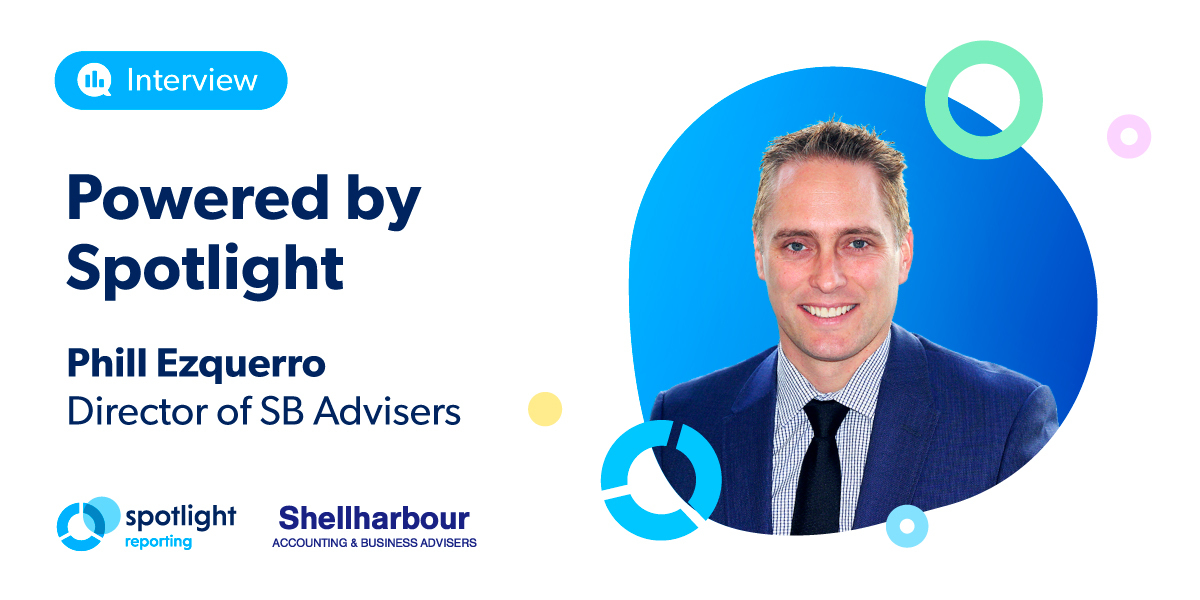 Phill Ezquerro (Director of SB Advisers in Australia) is powered by Spotlight and tells us how it helps his business.
Hi Phill, great to be speaking with you today. To get us started, tell us about SB Advisers and what you do. SB Advisers is a Chartered Accounting firm that has strategically positioned itself in the market as genuine Business Advisers. We have a diverse range of clients across many industries and commercial sectors and our philosophy is to help our clients to build and sustain profitable businesses. We help business owners to very clearly understand where they're going in business and in life, and we are very much a part of their lives, so we have to get it right!

How long have you been at SB Advisers and what has your experience been like using Spotlight Reporting? Our business has been operating since 2003 and I've been on board since 2015. Choosing to go with Spotlight Reporting about 18 months ago was a conscious decision – we liked what we saw very early on. It's a fantastic tool that allows us to give our advisory clients the best service and outcomes we could possibly give them. Before we started using Spotlight, we also analysed other available products and we were convinced that Spotlight was the way to go. Within two months of signing up with Spotlight, we'd generated an additional $115k in annualised advisory revenue.

For us, it came down to the fact that we liked so many things. The ease of integration with many platforms, the ease of use, the look and outputs of the reports. I'm a very visual person and it gives it a professional touch. You can go as high as you like in terms of content, or you can scale it right back. When you're in business advisory, you have to cater for different types of clients. Some people resonate with graphs, some don't. Some want lots of content, some want less. Some want a clear message in three points, some want 25 points. The flexibility in the program allows us to please different client types. It was very apparent from the beginning that we could customise things and make it very flexible in terms of customisation.

Spotlight Reporting has been instrumental in allowing us to set the gold standard for our advisory clients. There's no doubting that the smarts of the program, and the quality of the outputs make us look good. The intelligence behind the outcomes we are giving our clients is of a very high level, and in Spotlight we have a worthy platform that helps us to convey the information properly.

Which features do you enjoy the most and which ones make your job easier? The ease of importing information is fantastic, from Xero, QuickBooks or MYOB, Excel or Google Analytics, all the different platforms you can import data from. The functionality is great in reporting, forecasting or dashboarding. It has so many great features and it didn't take us that long to learn them. Putting them in practice was easily achievable and our client managers were impressed at how quickly we got it up and running. That being said, to get the advisory piece right takes skill!

How do you rate the customer support you're receiving from Spotlight Reporting out of 5? 4.5 out of 5, because there's always room for improvement! Our experience so far has been very good. The help has been there when we've needed it. I just put a ticket in overnight and answer was there for me this morning. That was fantastic to see. The help is very responsive and when you need insight, within the parameters of the program, we get that from the Support team.

What would you say to someone who is looking for or shopping around for a reporting tool? We have been able to harness the power of Spotlight Reporting and it has been a very welcome addition to our Business Advisory division. If you have accounting or tax clients that you are looking to help in a more meaningful way, then take a look at this program. I believe the more businesses that receive genuine business advisory services the better our communities and local economies will be. We're very happy with Spotlight Reporting and the outcomes it allows us to achieve with our business advisory clients.
As accountants, it is one thing to say that you can advise business clients in business matters, but it is a completely different thing when you are actually asked to do it properly. I think the necessary skills can only really come with experience and exposure to many different scenarios and then only with the proper tools can you produce the best possible outcomes for clients.
Is your firm powered by Spotlight Reporting? If so, we'd love to hear from you. To be part of our customer stories segment, contact our Product Marketing Specialist, Paul Gray. pgray@spotlightreporting.com.