"I love your Dynamic Rules! Compared to everyone else, your tool works really well because you can very easily assign a Dynamic Rule to multiple accounts at the click of a button."
In part one of our 'Powered By Spotlight' segment, Shannon Smit (Director and Founder of Smart Business Solutions) tells us what she thinks of our product.

Hi Shannon, thanks for joining me for this interview. To get us started, why don't you tell me a bit about your company and what you do.
I founded Smart Business Solutions 11 years ago – before that, I was with one of the Big Four as a Principal. We're Accountants and Tax Advisors, but do more than just annual compliance. A while back, compliance was about 80% of our business, but now it's only about 40% of our business. The other 60% of what we're doing is advisory. We help our clients with business plans, cashflow forecasting and ongoing monthly coaching. Also, last year we won Australian Accountant Business Advisory Firm of the Year.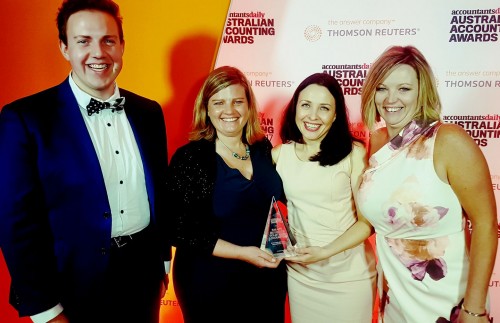 Smart Business Accounting at The Australian Accounting Awards.
From left to right: Hayden Winters, Shannon Smit, Nadia Hughes and Nicole Wicks
When did you start using Spotlight Reporting and what was your experience?
We started using Spotlight five years ago. At first we thought it looked really pretty and it had good graphs, but we really needed something more robust that could crunch the numbers. I left in 2013 because I needed a more robust product and I ended up trying all your competitors – I literally tried every single one of them for a few months at a time. I tried the next one, and then the next one and so on.... I ended up coming back to Spotlight Reporting because you were the one we liked the most.
Why was that? Why were we the one you liked the most?
Steve Kafritsas (Senior Account Manager) reached out to me. He was my Account Manager when he was working at Xero and he was the one that told me to come back to Spotlight Reporting. He rung me up and said he'd like to show me what had changed and I said "Yes, sure", just to humour him! By then, you had released your Dynamic Rules (in Forecasting) and had made a number of other enhancements. We chose to come back to Spotlight Reporting for the ease and flexibility of being able to make adjustments to cash flow. Once it's set up you can easily and consistently update it. It's the same with Spotlight Reports – they're easy to update every month.
What did you discover when you were using competitor products? How were their products different to ours?
A lot of the other products had all the bells and whistles visually, but they lacked substance to really crunch the numbers from a cash flow perspective. One had the substance, but wasn't on the cloud, which made it very challenging to use as we're a cloud-based firm.
Tell us which Spotlight Reporting features you enjoy using the most and the ones that make your job easier.
I love your Dynamic Rules! Compared to everyone else, your tool works really well because you can very easily assign a Dynamic Rule to multiple accounts at the click of a button. I found everyone else's solutions to be a bit more fiddly, or I had to do the rule a few times. With yours I can just go "tick, tick, tick" and I'm done!
How do you rate the customer support you've receiving from Spotlight Reporting?
I'd rate the customer support 5 out of 5. They always get back to us so quickly. Once I remember sending a support request very late at night. It was 10pm and I was very surprised because someone actually got back to me. It was your local guy, not someone overseas! It was so good because it was urgent and I was thinking I'd have to wait until the morning to get a response. Apart from the Support Team, Emily Mason (Customer Success Specialist) is very quick and if I'm in touch with Steve Kafritsas, as he always forwards my issue on to the right person very quickly.
What would you say to anyone considering switching to any other reporting tool?
If you want to proactively assist clients monthly, Spotlight Reporting's tools will help you do that most cost effectively. For example, when I was using competitor tools, I found that when you do updates each month, it would take a huge amount of time and I just didn't have that amount of time to spare. That is not the case with Spotlight Reporting!