When we launched Spotlight Reporting six years ago, it came with only one cloud software integration. However, it was always our desire to integrate with other key systems which businesses around the world use on a daily basis. Therefore, over the last six years, the Spotlight integration stable has grown to include Xero, QBO, Google Analytics, WorkflowMax and Excel. These integrations have allowed our advisor and business users to seamlessly import and report on key metrics in their businesses.
Today, we are excited to announce our latest integration - MYOB AccountRight Live.
Our direct integration with MYOB AccountRight Live allows advisors and businesses to import their MYOB data with a click of a button. No more importing Excel spreadsheets into Spotlight required, the integration enables you to import the data much more easily, quickly and accurately and is available across all four Spotlight products - Reporting, Forecasting, Dashboard and Multi.
Use Reporting to report on company performance, divisions (jobs and categories) or to consolidate multiple MYOB files. Create full 3-way forecasts and scenarios in Forecasting. Use Dashboards to create attractive one page reports. Benchmark and rank franchisees using Multi.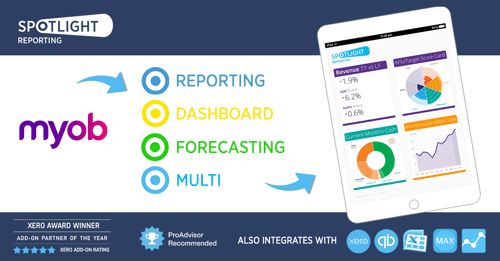 A Spotlight report isn't complete without charts, so in addition to displaying your MYOB data in tables and statements, gain valuable insights on business trends and fluctuations using our array of charts.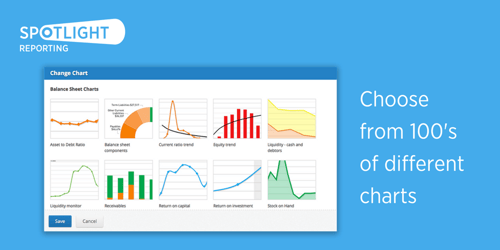 With the new integration, MYOB advisors and businesses can get clearer insights and make data-driven decisions for better business outcomes.
To find out more details about this release, please read our latest release note or view our 1-min release video.
We hope you enjoy our latest product update. For any further information, please visit our Help Centre.