MYOB has announced Spotlight Reporting as the winner of the Fastest Growing Add-on at its 11th annual Australia and New Zealand Partner Connect Gala Dinner.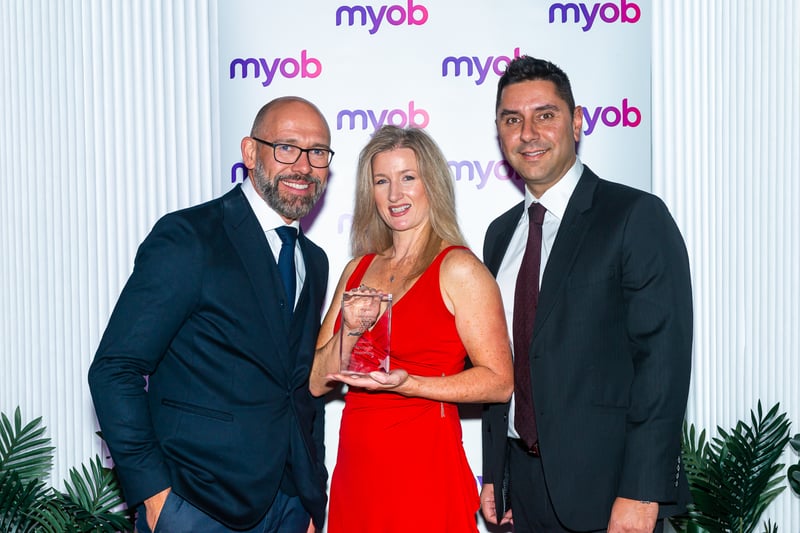 Tim Reed (CEO of MYOB) with Kristin Harris (Strategic Partnerships Lead) and Steve Kafritsas (Senior Account Manager) from Spotlight Reporting.

The industry-leading awards were rigorously reviewed by a judging panel including MYOB's
 Senior Leadership Team, respected industry professionals, and business leaders from Smiling
Mind, ANZ, OnDeck, and Netball New Zealand.

MYOB's General Manager of Product and 2019 Partner Awards judge, David Weickhardt, said
 the quality of the award candidates was outstanding.

"The recipients of the 2019 Partner Awards represent an incredible cross-section of partners,
 practices, and individuals who are all operating at the pinnacle of their field, setting a fantastic
 example for their peers and shaping a stronger future for the Accounting industry. We're
 honoured to have them as part of our community," Mr Weickhardt said.

The Fastest Growing Add-On award recognises the add-on tool in the accounting
 ecosystem that has demonstrated the fastest growth.

Richard Francis, CEO of Spotlight Reporting, said, "I'd like to thank the MYOB team and our joint partners for recognising us as the Fastest Growing App in the MYOB eco-system. We're thrilled to receive the award and look forward to sharing a host of new features and product enhancements with MYOB accounting professionals in the year ahead."




About MYOB


MYOB is a leading provider of online business management solutions. MYOB makes business life easier for approximately 1.2 million businesses across Australia and New Zealand by simplifying accounting, payroll, tax, practice management, CRM, job costing, inventory and more. MYOB operates across three core segments – Clients and Partners (business solutions to SMEs and Advisers); Enterprise Solutions (larger businesses) and Payment Solutions. They also provide ongoing support via many client service channels including a network of over 40,000 accountants, bookkeepers and other consultants and are committed to ongoing innovation,
particularly through their Connected Practice Strategy and through the development of the MYOB Platform. For more information visit their website or follow them on Twitter.