New to consolidations in Spotlight and not sure where to start? We'll walk you through the basics so you know what to expect along the way.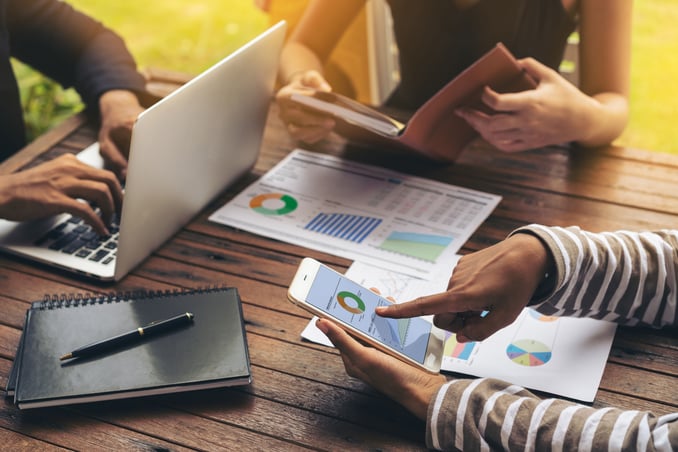 You've no doubt heard of consolidation. It's a part of effective management and essential to providing insightful information to all stakeholders to keep a business scaling.

If you've never used a tool like Spotlight to do consolidations, how do you know what to do, where to do it, and what steps to take? And what's the difference between doing it in a spreadsheet and Spotlight?

Lucky for you, our team at Spotlight has consolidations down pat, and we want to share our expert-level experience with you. So put on your learning hat (you have one of those, right?), and let's get consolidating.
Part 1: Why Consolidation?
First things first, consolidation serves three simple but exact purposes (already familiar with the 'why' of consolidations? Skip to Part 2):
Consolidations empower stakeholders to get a complete overview of the overall group
Consolidation = less paperwork. There's less effort involved in assessing the overall group's financial health, i.e. you don't have to prepare a set of reports for each entity!
Consolidation cuts out all transactions that occur between entities and the parent company. These things essentially cancel each other out. Eliminating these transactions gives a simplified view of business performance.
Our CEO and CA, Richard Francis, advocates that consolidation needs to regular, achievable, and scalable. Let's break that down:
Regular: stakeholders should see regular, up-to-date and accurate information for decision-making.

Achievable: if consolidated accounting was less time-intensive, it would be both cost-effective and a win-win for preparer and consumer.

Scalable: as entities or currencies are added, they should be able to be easily folded into the existing reporting framework.




#SpotlightTip: Our CEO and CA, Richard Francis has written a white paper that does a deep dive into consolidation. It's free! Download it here.

Sounds easy, right? Depending on yours or your client's business model, consolidation can quickly become complicated using traditional methods – we're talking spreadsheets here, with their manual transposition risk and outdated reporting options. To make consolidation easier on you, we're going to walk you through the basics of creating a consolidated report in Spotlight, including the process for importing data, through to visualising and sharing your first report.
---
Part 2: Using Spotlight for Consolidations

Spotlight was developed to not only provide faster creation of advanced management reports – great for the CFO, CEO Board and/or Advisor – but to present beautiful, understandable outputs. For those needing consolidation functionality, Spotlight's products offer ease of use, speed and clarity.
1. Making sense of Spotlight Multi vs. Spotlight Reporting
Before we get started, let's talk about the differences between the two Spotlight products that can be used for consolidation:
Spotlight Reporting was designed for company consolidations. You can use it to consolidate up to 50 entities, and to create consolidated and entity comparative Profit and Loss and Balance Sheet reports.

Spotlight Multi is more suited for franchises and not-for-profits which need to consolidate up to 500 entities. Along with creating consolidated Profit and Loss and Balance Sheet reports, you can also rank/benchmark the entities and highlight underperforming entities.





2. Building your first report
Building your first report can be daunting, but trust us, it's easy. Matt Kekena, our Training and Education Manager, put together a great how-to video (3-min) taking you through the steps to build a consolidated report that will delight your stakeholders.

I recommend watching this video and then jumping right in. And like everything in Spotlight, you can start by adding an organisation. It's sort of like making your bed, right? No matter what else you do (or don't) get done after, you at least did that...
The ability to automate and generate consolidated accounts in a real-time environment without the need to continuously export data to Excel and manipulate really saves time, especially in Asia where we work across multiple currency environments. There's less room for error and clients can benefit from well-structured and simplified reporting. No more Excel spreadsheets.
– Paul Gardner, Fresh Accounting
3. Level-up with Spotlight features
We've got a few tricks up our sleeve to enhance your consolidated reports. Take a look:
Spotlight will complete multi-currency conversions when working in a multi-currency consolidated report. We use XE.com to do conversions in Spotlight. You can view and edit the exchange rates that Spotlight uses for converting organisations with different currencies into the group report currency.
Watch video
When you work with a group of companies, there may be situations where one company within the group sells to or buys from another. If you want to adjust your reports to account for these inter-company transactions, you can do this automatically in Spotlight using Eliminations.
Watch video
You can use categories to filter consolidated reports and compare entities with certain traits. For example, if you run a group report consisting of entities located around the world, you might then want to run a comparative P&L for USA branches only.
Watch video
4. Preview and share
Step back and take a look at your work. 👏

The insights that can be derived from a consolidated report are extensive. For example, you can use Spotlight Multi to benchmark entities' key financial and non-financial metrics. You'll find lots of quality, actionable insights.

Now it's time to share your report. Don't forget to stamp your logo on and customise your report cover to get all the "wows."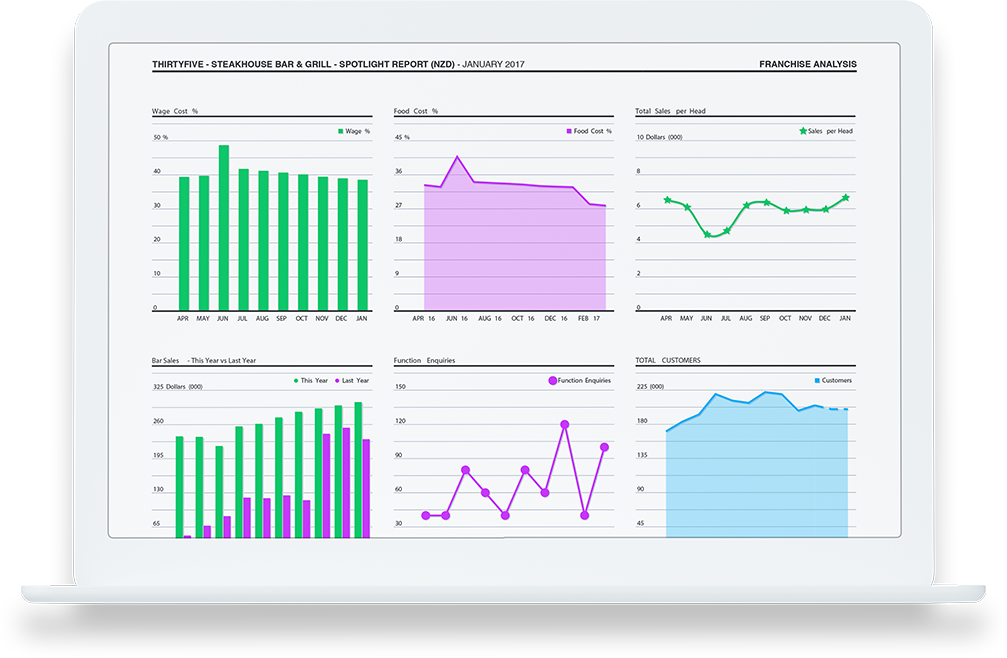 ---
Part 3: Resources to help you succeed
Here's a handy list of resources to help you succeed with consolidation in Spotlight Reporting:
---
Part 4: Hear from the consolidation pros
The Cheesecake Shop
Ken is Executive Director of The Cheesecake Shop, a large franchise organisation with 200 shops across Australia and New Zealand. Ken needed a group consolidation tool that could benchmark and rank his shops across his entire network.

Spotlight Multi was the only solution. Seamlessly import data from Xero, Multi made reporting 'a piece of cake!'
San Churro
Learn how Xero and Spotlight Reporting became the perfect combination for Franchise group San Churros to deliver their reporting requirements.

Jacqui from San Churros explains how connecting Spotlight to all their Franchise Xero organisations removed their pain points and achieved a new level of reporting efficiency.
Fresh Accounting
Find out how Paul Gardner, the founder and CEO of Fresh Accounting, utilises the Spotlight suite of products to gain a significant competitive advantage over other accounting firms and provide excellent service to his clients in dynamic and highly competitive Hong Kong.