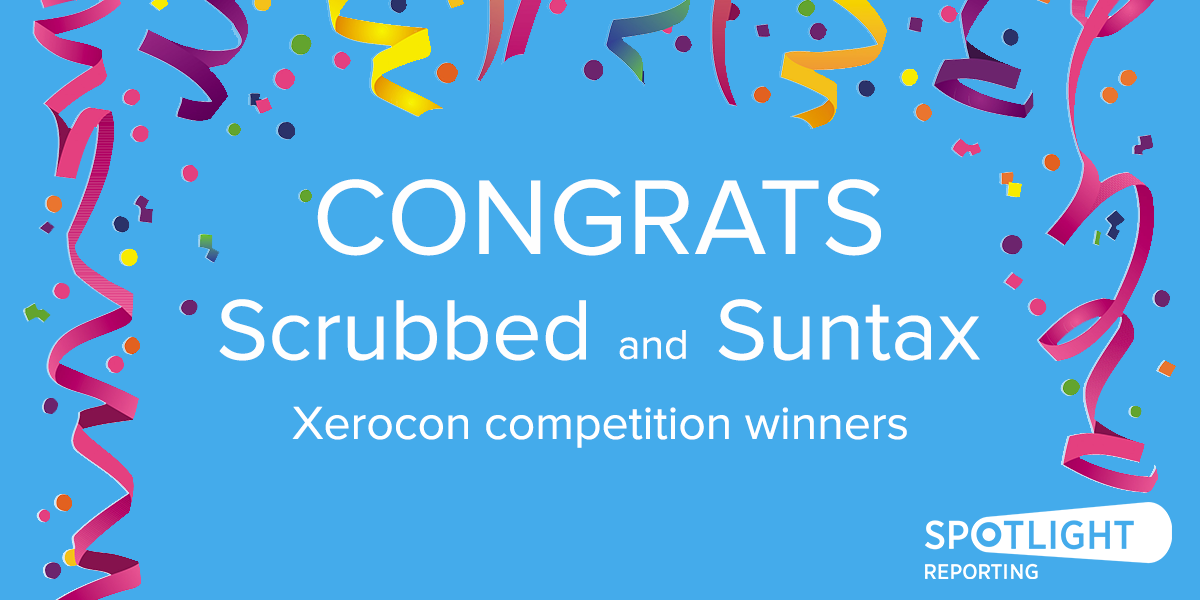 We're delighted to announce the winners of our recent Spotlight Super VCFO competitions, held at Xerocon in San Francisco and Brisbane. A huge thank you to the 500+ Xerocon attendees who visited our stand over the two conferences, from whom we have drawn the following two winners:
From all the team at Spotlight Reporting, a huge 'CONGRATULATIONS' to our winners from both sides of the globe! Each of them receives a free three month Super VCFO subscription, entitling them to unlimited use of Spotlight Reporting, Dashboards and Forecasting, along with two hours of expert advisory coaching from our founder and CEO, Richard Francis.
We are looking forward to partnering with both Scrubbed and Suntax to bring a whole new world of advisory services to their clients!
The tale of two Xerocons
Over the last few weeks I've been fortunate enough to attend both Xerocon San Francisco in the US and Xerocon South in Australia. What world class events they were!
It's widely thought that the US market is still some way behind in their adoption of cloud technology in comparison to Australia and New Zealand. However, I was pleasantly surprised by how much the level of conversation had matured since my last US Accountants conference two years earlier. Back at Sleetercon in 2014, I was quite dismayed by the number of questions posed to me regarding the security of data in the cloud and the lack of urgency to move away from feature rich desktop software. However, roll the clock forward two years and I'm pleased to report things have progressed a lot in the US. Now not only the move to cloud-based accounting systems is accepted as inevitable and a given, but accounting firms are actively seeking to transform from being traditional compliance houses to embracing advisory relationships with their clients. The Spotlight Reporting stand was absolutely buzzing in San Francisco!
Just three weeks later, Xerocon South came along and the stakes were raised to a completely new level! Having personally attended nine Xerocons, I felt this was the best one from almost all perspectives. It's fair to say that the reporting space is a super hot one in Australia, New Zealand and Asia. Even with nine of our team members helping to man our stand, the Spotlight team were totally run off our feet during the entire two days! The desire of accountants to move towards advisory services and have the Spotlight software toolkit in their armoury was very encouraging. Of course, a personal highlight for our team was winning Xero's 'App of the Year 2016' Award from a field of over 500 add-on solutions - something we are really proud of.