If you're wanting to provide deeper insights for your customers and are looking at the best practices around on what to measure for your clients, we've put together some pointers for you.
Firstly, it's important to ascertain what the client's goals are and what order ranking they sit in. What you as an accountant and advisor think they may want to achieve business wise may not be what they feel, additionally they may rank a particular goal higher for themselves then what you do. For example, being able to save more money and input it into a university fund for their children rather than expanding the business over the next couple of years. These goals form the point relevance to which actual results can be compared to and allows you to gauge what data is important to gather and what data to refine to provide advice of real value.
Secondly, now the goals are clear you can assign data to these goals. With each goal, ensure that you break down what particular contributing data you need to ensure they're on track to achieve them. For example, you have a goal of $100K of income per month. 'Income' by 'month' is your financial data point that you can ascertain from the accountancy software. However what contributes to making income for that client? Breaking down the goal into the contributing factors and what accumulatory data you need to represent those factors, so you can clearly measure and provide advice on them.
If they aren't currently measuring this data, it will become apparent in this process as well. This provides you with another avenue for your advisory services to ensure they are collecting the right data for their goals and are using the right tools to do so. If they are already measuring or asking staff to provide them with numbers on different things aligned with their role, incorporate these into reports and dashboards as well. We want the right data, that will yield that critical insights so as accountants and advisors you can provide those critical advisory services.
It's also important to consider what industry your client is in as there will be some data that is pertinent to their business and is a good starting point for you to see what they are and aren't measuring and what contributing factors affect their goals. We've put together some common industries below, common contributing factors you can gather data on and some subsequent advice you could provide for them that can affect different goals.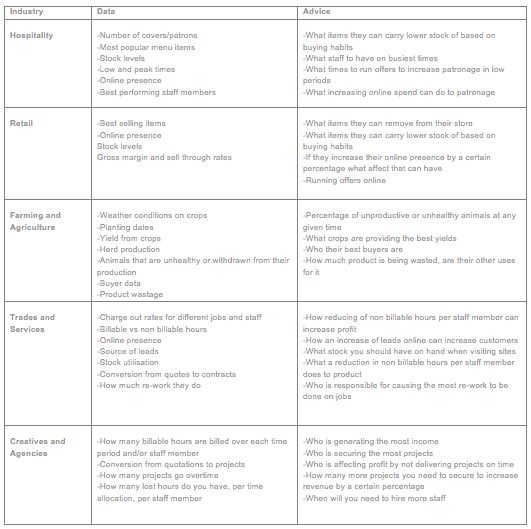 Lastly, it's always good to provide a personal touch to your reports. Things like ensuring you've uploaded your logo so it has your company's brand. Also, utilising the breakdown and recommendations section in the report. Here, you can reaffirm your key recommendations based on the data in the report. You could also do things like incorporate information of importance and relevance to them like due dates, reminders and action points, when their next appointment is with you and also avenues for them to contact you on and connect with you. This is always great if you are active online and can offer them another way to connect with you and see why you're one of the best in the business. If you have made yourself available through Skype or Google Hangouts as well, it can be good to include these contact details in case the client has anything they want to discuss with you.
One of our Super VCFO partners that does collates, reports and advises on client's data really well is The Wow Company. They also specialise in working with creatives and agencies and even put together their own surveys and subsequent insight reports for their clients. We've captured how they work with their clients and provide their advisory services in this case study below:
[embed]https://vimeo.com/127652213[/embed]